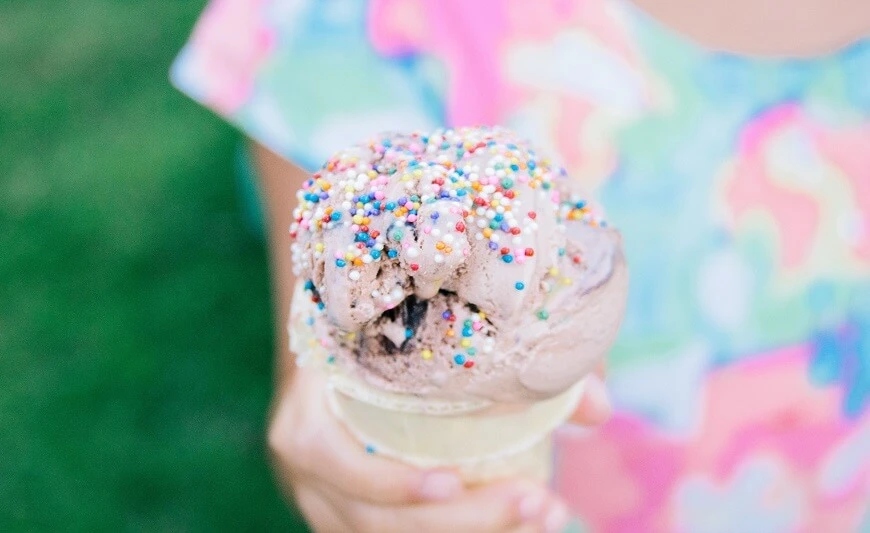 Do you like ice cream? Yes?!. Well, I have good news for you! Tomorrow, February 18th, is "International Eat Ice Cream For Breakfast Day".
You're smiling, right? I'm smiling. And smiling is one of the intended benefits of this celebration. But this day isn't simply a lighthearted justification for a sugar-rush, there is more to the origin of this day.
What Is International Eat Ice Cream for Breakfast Day?
A mom and her sister were missing Malia Grace Patterson, a little girl who courageously fought cancer for 14 months. Eating ice cream for breakfast on their Make-A-Wish trip was a memory that made them smile. As a tribute to Malia, they celebrated her birthday by eating ice cream for breakfast with close friends. The popularity of their celebration exploded, and as a result they created an international day of celebration to raise awareness about childhood cancer.
"This worldwide day of encouragement means SO much to SO many, and we are delighted at all this day has become. What started out as a birthday celebration for one loved girl, has turned into a day that many amazing families claim as their own. And we would have it no other way."
– Annette and Alyssa
Fun Facts (in case you need to convince someone that this is a good idea)
A study from Japan found that consumption of ice cream in the morning helped to improve mental performance with higher alertness, quicker response, as well and lower levels of irritability.
Kevin Bacon participates in International Eat Ice Cream for Breakfast Day.
Eating ice cream stimulates Seratonin (the happiness hormone) which reduces stress.
Ice cream is rich in calcium and phosphorus for strong teeth and bones (just be sure to brush those teeth after).
I would celebrate, but I don't eat ice cream.
I love my lactose-intolerant and supremely healthy friends, which is why I found a few alternatives for them!
Haagen-Dazs Sorbet (lemon is my favorite!) You can locate your favorite flavor here.
So Delicious (If you haven't tried the Dipped Vanilla Bean Coconut Milk Bar you are missing out).
If you are like me and always have a Siggi's Yogurt or two in your fridge try this recipe.
Need something Gluten Free and Vegan? Try this recipe from Confessions of a Fit Foodie.
Will You Join Me In Celebrating International Eat Ice Cream for Breakfast Day?
Childhood cancer impacts 1 in every 285 kids in the United States. Fortunately, 80% of these kids survive. Celebrate those fighting, surviving, and resting. If you don't already have ice cream in your freezer, make time today to pick some up (or make some at home).
Learn more about International Eat Ice Cream for Breakfast Day on social media. If you choose to celebrate and post a picture, be sure to include #icecreamforbreakfast and #kidsgetcancertoo on your social media post.
Remember, it's not really about the ice cream. International Eat Ice Cream for Breakfast day celebrates childlike joys and reasons to smile while raising awareness about childhood cancer.