Are you feeling it? The fast-approaching deadline. While the kids count down the days until Christmas, I need each and every day to complete everything on my list.
I take full responsibility for the length of my "to do" list. There are surely items that I could omit, but nostalgia prevents several items from falling off the list. One such item - handmade gifts.
Having more time than money, when we were newly married, a tradition began. Together, my husband and I created gifts for family and close friends. To clarify, we were together in the kitchen, but working on completely different projects. Tim's kitchen goodness was savory and mine was sweet. We sought out packing and labels that validated the effort we put into these gifts. It was fun. A lot of work, but a lot of fun. Almost to our surprise, and much to our delight, recipients truly appreciated these gifts.
Over the years our "time" has more demands upon it, but handmade gifts remain a priority.
I like to change it up every few years, and this year seemed like a good time for a change. If you are thinking a gentle pivot, it is more of a cartwheel. With extra handwashing, lately I have found myself using a lot of hand cream. You know where this is going - hand cream all around. One caveat, while I would describe myself as easy-going, there are a few things that I am super picky about...hand cream is one such item.
There are really only 3 requirements though.

1. Thick cream, nothing runny (but not too thick because I want it to soak in – just call me Goldilocks)

2. Leaves hands soft (oily or sticky residue is a no-go)

3. Lightly scented or completely unscented (I want to enjoy the scent, but if I walk into a room and someone can tell than I have recently lotioned up, well that doesn't work for me)
Just 3 (super specific) requirements.
This should be easy enough to create right?! After sifting through various levels of DIY lotion recipes on Pinterest (where else does one find anything?), I found a recipe that appeared to have everything I desired and an approachable ingredient list. Some items are ones that we typically have (think coconut oil), and others had to be ordered (think shea butter base). So a quick online order and a few days later, we were ready to take on the project. I say we because I hoped to rope my daughter into this fun kitchen science project.
Only one problem, that recipe I saved was nowhere to be found. With an anxious assistant next to me, I flipped through a few recipes and found one that included the proper ingredients. I hoped it wasn't too far off from the original recipe.
With focused efforts, we pulled together our ingredients and tools.
Tip 1: Protect your workspace. Anything that you are willing to toss will work (grocery bag, paper, even a piece of cardboard, whatever you have available).
My daughter and I were equally excited about this project, so we made our own batches side-by-side. It was a happy mess.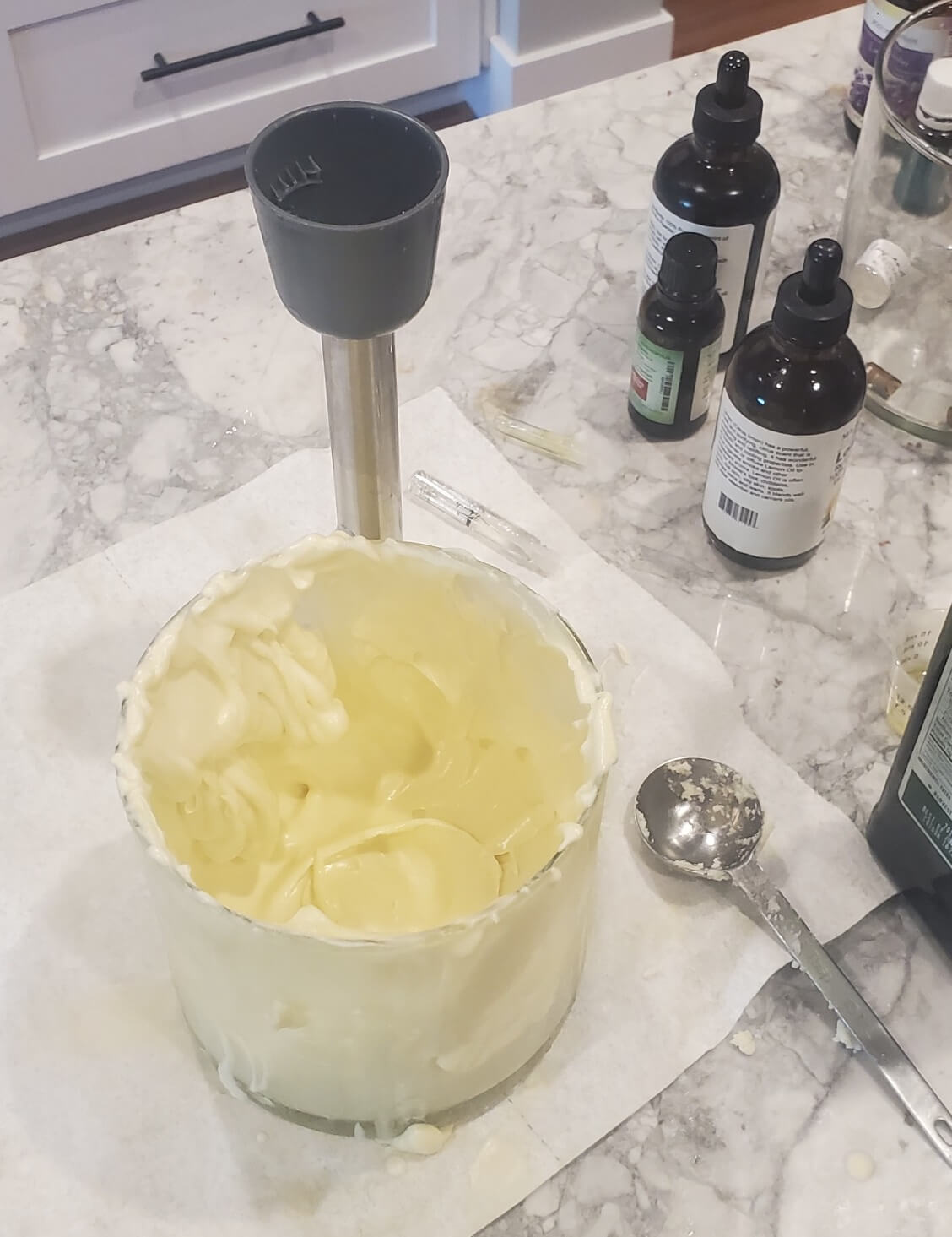 Tip 2: Don't use your favorite kitchen items. The items in this recipe, while innocent enough, may leave trace amounts of residue. If you have craft specific containers, use them. I don't but was able to round up a few older bowls and spoons.
We ended up with a rather soupy lotion. My furrowed brow and sideways glance at my daughter yielded a sideways smile. At that moment I knew we were going rogue. So a little of this and a little of that later – we achieved body butter!
Tip 3: Paper towels. You won't want to get your nice towels all mucky and a damp towel is super handy.
The irony of this story is that when I located my original recipe, it mirrored the one that we ended up concocting.
We are still finalizing our Christmas gifts, but this lovely body butter from Live Simply, is the frontrunner. Maybe it will be paired with soap on a rope (because it is just fun) or gingersnaps (because they are delicious). Ah, decisions-decisions.
Whether you count down, or on the days before Christmas, I hope that you find joy in the process. May the gifts you give be received with an appreciation of the time you spent finding, creating, and preparing them. Time is a most precious gift.